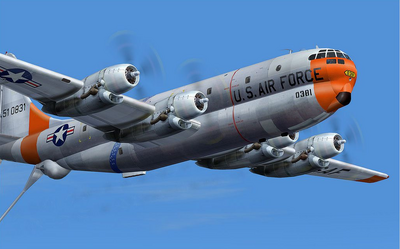 This WWII era plane is one of the largest USAF freighters of the day. It was also used as an early mid air refueling plane to pave the way for many aircraft including the KC-135 Stratotanker. It was used in the strategic airlift and tanker role up until 1979.
Description
Edit
The KC-97 was designed in 1951 for a plan for a next generation post war startegic airlifter that could serve several roles including tanker duties by Boeing. It could fly across the Atlantic without refueling and was upgraded several times including the upgrade to allow jet aircraft to refuel at it and that bit did. They used them in the national guard and the army reserve and still use several for promotional flights and light civilian freight shipments. The 90,000 pounds of fuel are nothing comapared to the KC-135 200,000 pounds, the speed of the 4 prop engined plan was 230 mph was nothing to the Kc-135's speed of up to 550 mph and the cruising height was 30,000 feet and the KC-135's was 90,000. It also had a small range of 2,300 miles per fuel tank, but they still impacted the air corp while it lasted.
Back to 50 LARGEST AIRCRAFT list!!!