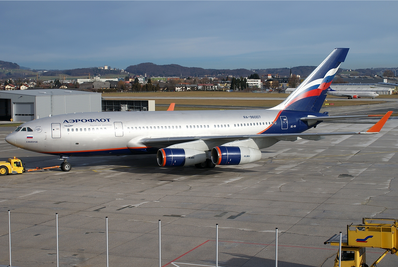 Ilyushin's IL-96 is a poduction airliner from Russia, one of Russia's most modern. It is not as successful or as popular as Boeing or Airbus models, but it is still in service and production by 7 companies and is expected to serve well into the 21st century.
Description
Edit
The IL-96 is a wide body long range airliner designed and first entering service in 1988 and has since been a soviet and Russian favorite, taking 12th place here. It is based off of the IL-86 which was retired in 2011. The IL-96 continues now with features like it's powerful 4 engines and TVs. There has even been several military operators using them as troop transports. Now, only 4 are in service, all for the Russian military, while the 7 civilian operators mainly have them in storage waiting for upgrading. Even though there was some troublesome landings, the IL-98 made it out as a signature Soviet and Russian airliner. The IL-96 is incredibly similar to the Boeing 707 and the Airbus A340.
Back to 50 LARGEST AIRCRAFT!!!!