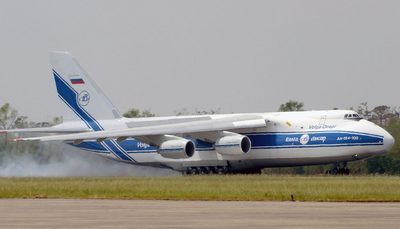 The An-124 Ruslan Is Russia's flagship airlifter at the 6th largest aircraft. The Ruslan is huge with 4 engines matching the C-5 Galaxy of America.
Description
Edit
The Ruslan is also known as the Condor. The An-124 since 1982, has been made 55 times and is still being produced. Several Ruslans are in the Air forces and commercial companies and some are used for research. The An-124 replaced the An-22 Antei and continued to serve alongside the An-225 Cossak and is one of the signature images of Russian aviation. In it's service the An-124 has "swallowed" things like Submarines,car fleets,aircraft, and even whole trains. Some Ruslans have set records like the Longest distance without refueling and more. The Ruslan serves Libya, Russia, Ukraine, Emirates, and Britain. The Ruslan can carry 330,000 pounds of cargo and can fly at 537 mph at a range of 3,321 miles and it can even rise to an altitude of 39,370 miles. The An-124 will serve with these features well into the 21st century and has become one of the most recognizable Soviet aircraft.
Back to 50 LARGEST AIRCRAFT list !!!