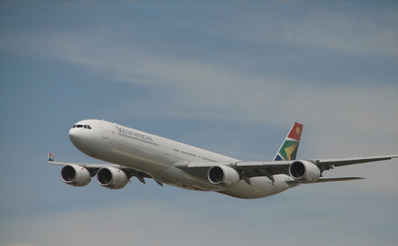 The Airbus A340 is one of Airbus's A300 family's biggest airliners. It is a long range intercontinental Four-engined Wide-body airliner most common in Europe. Developed in France and first flown in 1991, the A340 has become Airbus's Secondary Flagship.
Description
Edit
The Airbus A340 has been one of Europe's Best aircraft and still is as 377 where built until production slowed to a stop in 2011 after exactly 20 years of reliable service. Many airlines prefer the twin engines, though for the airlines with the BIG BUCKS, the A340 has become a signature Aircraft, some include Lufthansia and Malaysia. For 11 years the A340 was the longest airliner until the largest version of the Boeing 747 was built. The A340 is still an important part of aviation and the fleets are expected to serve until 2030. The Airplane is also known for quantity, not quality like the Boeing 737 and could fit up to 440 passengers and can fly at up to 547 mph. The A340 sets the standards for transcontinental Transport.
Back to 50 LARGEST AIRCRAFT list!!!!!